RFID

RFID Solutions for Production and Logistics
End-to-end tracking of incoming and outgoing goods, confirming automatically that the intended materials and tools are being used in production, or providing access points with increased security. For such industrial tasks, RFID has proven itself as a powerful Auto-ID technology for Industry 4.0, with contactless transmission of large amounts of information, even over long distances, and easy connection to higher-level systems from PLC to ERP.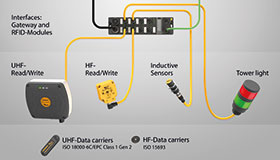 BL ident is Turck's complete modular RFID system, tailored for industrial environments (click to enlarge)
HF technology (13.56 MHz) is an important driver of digital production processes, it is based on magnetic near-field communication. However, if higher ranges or bulk readings of 200 data carriers and more are required, users should opt for UHF technology (865...928 MHz). Turck's modular RFID system BL ident enables the parallel operation of read/write heads in the HF and UHF range – and thanks to protection class IP67, this can also be done directly on site at the machine or plant. This allows consistently decentralized signal processing in the field.
Communication in logistics and production plants today is divided into hierarchically structured levels. RFID readers with an Ethernet interface establish a direct exchange of information with higher-level systems, such as PLC, SCADA, MES and ERP or the cloud. Thus, goods movements are visible in real time, detected goods are matched with the database or, perhaps, automatic invoices are already created in the accounting software.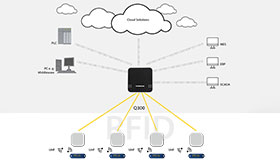 Direct communication with higher-level systems: the Q300 read/write head offers high platform variability (click to enlarge)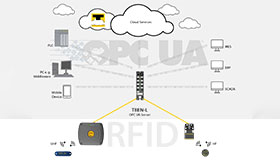 Access and data exchange via OPC UA – a global and secure communication standard (click to enlarge)
The platform-independent communication standard OPC UA simplifies the integration of RFID solutions into PLC, MES, ERP or cloud systems. With the AutoID Companion Specification, it is also possible to exchange devices between Auto-Ident systems from different manufacturers. Turck played a significant role in the development of the standard and has an own RFID interface with OPC UA server in its portfolio. For secure communication, the interface offers mixed operation of HF and UHF read/write heads.
Video: Seamless Identification in Production and Intralogistics
Watch the video to see how Turck's RFID solutions optimize the entire process – from incoming goods to production and outgoing goods.
With Integrators and the Right Middleware to Turnkey Applications
Especially for UHF projects, the know-how of system integrators pays off for companies. These specialists not only master the parameterization of read/write heads, for example to exclude interference with other devices, but also take over the installation of middleware. For the systems involved, it is in fact the middleware that makes the information on a data carrier usable - filtering and transmitting or visualizing it as required.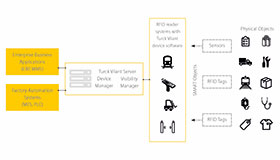 From goods to data flow: Turck Vilant Solutions supplies turnkey RFID solutions (click to enlarge)
Since 2018, Turck also offers turnkey RFID complete solutions through its subsidiary Turck Vilant Systems. The RFID specialist has already realized more than 1,000 RFID system installations in 35 countries and increases the efficiency of all track-and-trace processes along the supply chain with reader systems, internally developed middleware and on-site service.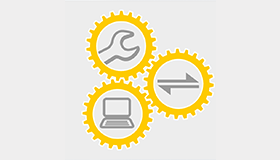 More Efficient Processes in Production and Logistics
Avoiding time-consuming manual work steps – and simplifying inventory management, for example
End-to-end identification and tracking of the goods flow
Bulk reading: detect several tags at the same time
Improved Quality Control
Eliminate errors, for example during tool change or material feed
Full transparency along the supply chain thanks to the clear allocation of goods
Tamper protection via individual coding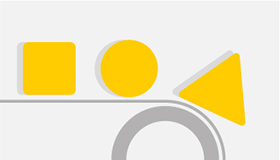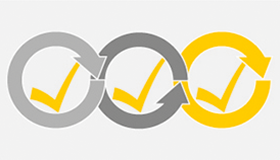 Future-proof Investment with High Flexibility
Expandable RFID system consisting of tags, read/write heads, interfaces, connectivity and fieldbus technology
Rewritable tags for sustainable use
Combination of HF and UHF detection for complex or new requirements
RFID Products
Follow these links to our product database and find the right product for your RFID solution.