Pick-to-light

What is Pick-to-Light?
The Pick-to-Light solutions by Turck and Banner provide operators with a visual indication of the required part in an assembly sequence. Actions (correct or false) are indicated by means of lights and optional audible signals. Completed operations can either be automatically or manually acknowledged.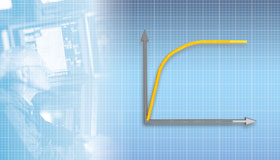 Process optimisation
Visual process management opens up manifold possibilities for process improvement:
Improved flexibility; personnel require next to no training
Improved and repeatable process quality
Quality management/control by means of process logging
Interfaces to warehouse control, ERP-systems…
Drastically reduced installation, commissioning and maintenance times
Virtually 100 % error free installation
Pick-to-Light solutions from Turck are based on IP67 components to allow robust, fast and error-free installation without the need for a control cabinet. The plug-and-play qualities inherent to an IP67 solution result in reduced installation times coupled with an almost 100 % error-free installation with drastically reduced labour costs. Solutions using IP20 components are also available on request.
Due to a modular hardware and software approach, tailor-made complete solutions can be readily and cost-effectively realised to our customers' requirements. Our experience in this field and our ability to provide one-stop shopping for the complete solution ensure that all components interoperate perfectly.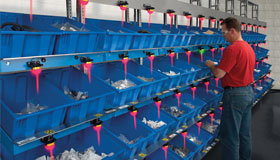 Pick-to-Light Products
Follow these links to find your Pick-to-Light product in our product database