Advantages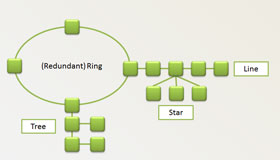 PROFINET Network Topology (Klick to enlarge!)
Flexible network topology
The PROFINET I/O devices from Turck have an integrated switch and can be installed in linear structure like classic fieldbus systems.
In addition, PROFINET also supports the standard Ethernet topologies such as star, tree and ring structures. Like that the network installation can be easily adapted to machine and plant structure. In a star or tree structure external switches are used, which in turn has a positive effect on the performance of the overall system.
Fast Start-up
Fast Start-up reduces the time between switching on the power supply of a I/O device and the establishment of a connection with the I/O controller. Fast Start-up is defined by PROFINET generally as less than 500 ms. Turck's I/O modules of the TBEN-L Series also realize start-up times up to 150 ms.
Fast coupling of I/O devices is especially important to reduce waiting times in tool change applications. So clock rates and thus productivity can be increased.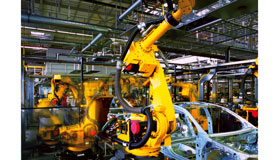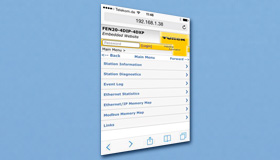 Extended Diagnostics
In PROFINET networks standard IT functions and protocols such as HTTP and SNMP (simple network management protocol) are available for network diagnosis. The SNMP protocol is, among other things, a basis for the PROFINETtopology scan. With it, entire network structures can be read online and displayed graphically.
All multiprotocol Ethernet gateways and I/O modules from Turck are equipped with a web server. The web server provides statistics and settings in addition to the Ethernet ports and a fault memory with history and diagnoses in plain text.
Proven Engineering
In keeping with tradition of PROFIBUS, the configuration of the system was largely retained even with PROFINET. With this, PROFINET provides a very sophisticated and user-friendly engineering compared to other Ethernet protocols. The new GSDML configuration files are based on the XML standard and enable advanced structures and new functions. In addition, the web server configuration tool is becoming increasingly important. Thus, for example, Ethernet ports are configured or the PROFINET name can be assigned.