Module Type Package

What is MTP?
MTP stands for "Module Type Package" and refers to a manufacturer-independent standard for the fast and simple configuration and implementation of modularized production plants. MTPs define the properties and interfaces of plant modules (Process Equipment Assembly, PEAs) on a functional level, in which technology and manufacturer are irrelevant, thus ensuring compatibility. The goal is to make plant modules easier to replace and even faster to start up and run. An MTP contains all the information required to integrate a module into a modular plant, such as the description of operating screens and data objects.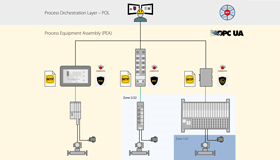 The infrastructure graphic shows with which components MTP communication can be realized – even in hazardous locations.
In terms of how they work, Module Type Packages are comparable to printer drivers. The MTP here corresponds to the printer driver, the module to the printer and the PC to the higher-level controller (Process Orchestration Layer, POL). The POL reads the Codesys-based MTP file created and processes it. The function of the module is recognized and its process control is based on the description in the MTP file.
The instructions are then communicated via the platform-independent OPC UA data transfer standard. In this way, plant modules from different manufacturers can be used flexibly and easily interconnected to form complex overall plants. MTPs significantly reduce the engineering effort of modular plants and enable the construction of true "plug-and-produce plants".

Modular plants are already widely used in the pharmaceutical and biotech industries in particular, but also in the food industry. The view is also becoming widespread in other sectors of the process industry that modularization in chemical production brings many advantages, and this includes through the integration of package units via MTP.
Who is behind MTP?
MTP was initiated and developed by NAMUR and ZVEI. The Profibus User Organization (PNO) and Profinet International (PI) are responsible for the further development, quality assurance and international distribution of MTP.