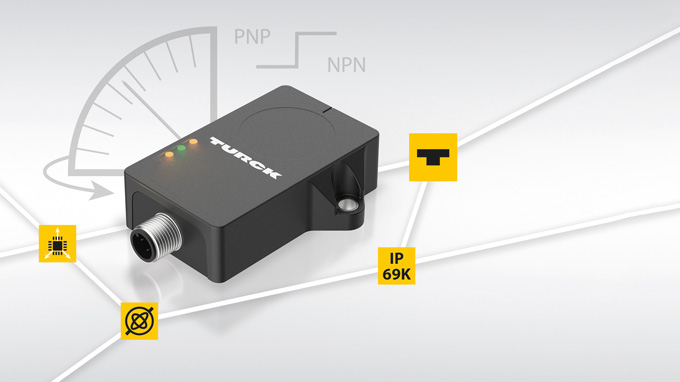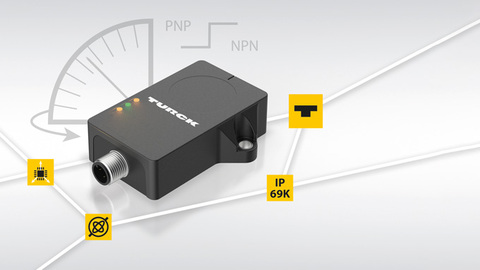 Now also with a switching output: the QR20 inclinometer with combined measurement principle for dynamic applications
Dynamic Inclinometers with Switching Output
Turck's inclinometers with a combined MEMS and gyroscope signal for moving applications are now also available with a switching output

Turck's QR20 inclinometer generates its signal from the combination of two measuring principles: a gyroscope signal and an MEMS acceleration measurement (Micro-Electro-Mechanical Systems). In this way the sensors combine the benefits of both measuring principles. The QR20 can mask out shocks and vibration much more effectively than with conventional signal filters. The B1NF and B2NF single and two-axis inclinometers thus enable a previously unknown degree of dynamic measurement for moving or vibrating machines.

The new QR20 variants switch when a threshold value or switching window is reached. Two switching windows can be set and used in NO or NC operation. The QR20 with switching outputs is particularly suitable for applications in which a simple switching signal in a PNP or NPN logic circuit is sufficient to indicate the reaching of a specific inclination angle and where a measuring inclination angle sensor would be exceed requirements.
Your Benefits
Fast commissioning thanks to use of simple switching outputs
Easy mounting thanks to "spirit level function"
High availability thanks to shock resistance up to 200 g and IP69K protection
Higher cycle speeds possible thanks to dynamic inclinometer signal
Cost benefits as no need for shielded cables and analog inputs and IO-Link ports
LED spirit level simplifies commissioning
The "spirit level function" simplifies device installation. The flashing of an LED is used here to indicate the horizontal position of the sensor. This therefore enables the error-free and reliable installation of the sensor without any accessories. The use of translucent plastic for the LEDs eliminates the potential weak points in the housing arising from LED lenses.
The devices can also be used for positioning and lifting applications. Turck is adding four more devices to the existing portfolio of the four IO-Link inclinometers: the B1N single-axis and B2N two-axis inclinometers for static applications and the B1NF and B2NF for dynamic applications.
---
INDUSTRIES
Automotive industry
Machine building
Logistics
Mobile equipment
---
KEY FUNCTIONS
Sensor signal combined from MEMS and gyroscope for highly dynamic measurement
Switching outputs and LED spirit level simplify commissioning
IP68/69K
---
RELATED CONTENT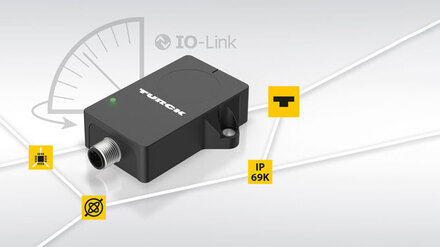 Learn more about the B1NF and B2NF single and two-axis inclinometers for high-speed control circuits
---
PRODUCT DATA
DIGITAL SHOWCASE